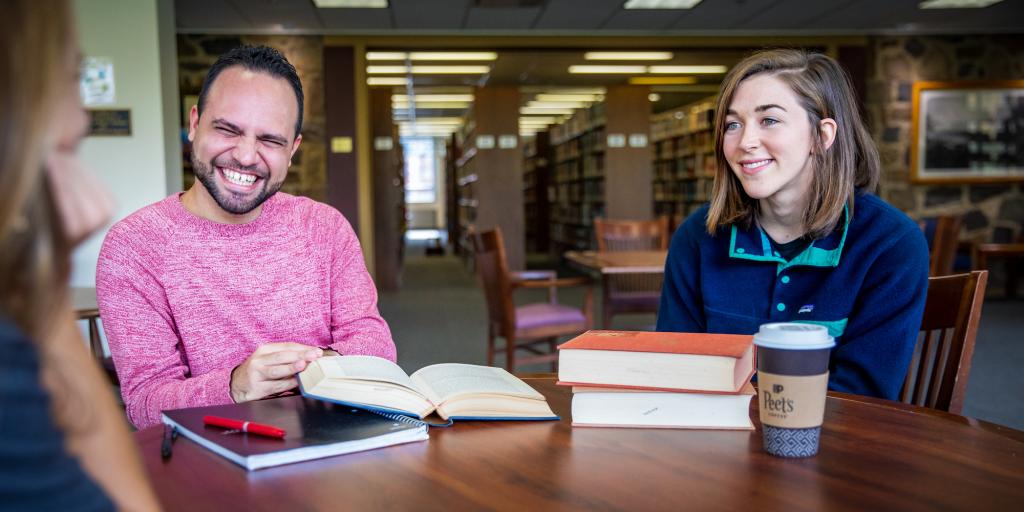 The Palmer Seminary community meets weekly for worship as the seminary, and every Wednesday morning at 10am with the rest of the Eastern University community for Chapel. On Tuesday and Thursday evenings, beginning at 6:00pm and ending by 6:50pm, we meet for Seminary Chapel in McInnis Room 251.
On Tuesday evenings, Rev. Johnson Dodla and our Methodist friends offer worship in the Wesleyan style (often with Holy Communion), and on Thursday evenings, Dr. Debbie Watson lines up speakers from the Student, Faculty, Staff, Alumni and neighbor pool of Palmer!
If you would like to help with accompaniment, provide special music, or bring a meditation, please let Dr. Watson and Rev. Dodla know! The heart of life – now and in eternity – is to worship the Lord our God with all our heart, soul, strength and mind!
Chapel & Chew Schedule- Fall 2023
September 5: Rev. Dorry Newcomer, Lead Pastor Lima United Methodist Church
September 7: Rev. Dr. Kimberlee Johnson, Dean, Palmer Theological Seminary & College
September 12: Rev. Steve Morton Rev. Steve Morton, Leadership Development Manager Eastern PA Conference United Methodist Church
September 14: Lorena Marshall-Blake, President, Independence Blue Cross Foundation, M.Div. Student
September 19: Rev. Jacqueline Hines Tilford Lead Pastor Havertown United Methodist Church
September 21: Joseph B. Modica, University Chaplain, Eastern University
September 26: Student Assembly
September 28: Roland Ford, M.Div. Student
October 3: Rev. Tom Ebersol, Lead Pastor Westlawn UMC
October 5: Jane Filkin, Dir. of Leadership Development & Spiritual Formation, Campolo Center for Ministry
October 10: Rev. Kate Monahan Director of Resourcing, Coastal Plains Region/Mosaic Ministries
October 12: Oluwafemi Adeyemi, D.Min. student
October 19: Reading Week
October 24: Kat Armas Author, Theologian, and Speaker
October 26: Liliana Maricela Calderón de Pleités D.Min. student (Spanish language)
October 31: Led by Organizational Management and Leadership class
November 2: Old Testament Study 1 Class, Dr. Winters
November 7: Rev. Zach Hopple, Lead Pastor  Christ United Methodist Church
November 9: Old Testament Study 1 Class, Dr. Winters
November 14: Rev. Dan Roth
November 16: Student Assembly
November 23: Thanksgiving
November 28: Rev. Johnson Dodla, Director of United Methodist Ethos and Student Advising
November 30: Diane Chen
December 5: Student Assembly
December 7: David Applegate, M.Div Student
More Information
For more information about Tuesday Chapel, please contact Johnson Dodla at jdodla@eastern.edu.
For more information about Thursday Chapel, please contact Deborah Watson at dwatson2@eastern.edu.