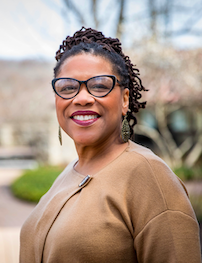 It's my joy to welcome you to Palmer Theological Seminary!
Here we have a rich legacy of scholars, pastors, and servants who have lived out their callings to faithfully love God, serve Christ, make disciples, and walk with the world's vulnerable and oppressed people. Faculty like Orlando Costas, Ron Sider, and Samuel Escobar, and numerous alumni have exemplified what it means to live out our mission: "the whole gospel, for the whole world, through whole persons." Perhaps God is leading you to be a part of this inspiring community.
Here at Palmer you will find holistic and practical theological training. Here you will find caring faculty who teach and lead with an undeniable pastoral touch. Here you will find a body of diverse learners who are growing together in Christian community. Here you will find opportunities for ministry training that are both personally nurturing and academically rigorous. Here you will find flexible educational options that focus on holistic ministry and prepare you to be an effective servant of Christ in your chosen context. Here we are also concerned about your personal, social, and spiritual development and offer co-curricular opportunities that foster your growth. Here you will find a community committed to loving God and neighbor by making disciples and working for social justice. And, we are also one the most multidimensionally diverse seminaries in North America. Truly, there is no seminary like Palmer! 
You may study at our main campus or enroll in one of our online programs. We have programs for pastors, ministers, lay leaders, and persons simply desiring to hone their ministry effectiveness. Take some time and explore the various degree and non-degree programs on our website including the Doctor of Ministry in Contextual Leadership (DMin); the Master of Divinity (MDiv) on campus; the Master of Divinity (MDiv) online/Openseminary; the Master of Practical Theology—online/Openseminary; the Master of Theological Studies (MTS); the Master of Theological Studies in Latino Ministries (Maestría en Estudios Teológicos en Linea) taught online in Spanish; our dual degree program that combines our MDiv degree with a Master of Business Administration in Management; and Eastern's School of Christian Ministry that offers a range of diplomas and certificates.
Many great things are happening in and through Palmer's alumni, faculty, and staff. We invite you to join us! Is the Holy Spirit leading you here? Not sure? We are happy to walk with you in the process of discerning God's calling for your life which may include a period of learning, training, and spiritual formation at Palmer.
Blessings,
Rev. Dr. Kimberlee A. Johnson
Dean, Palmer Theological Seminary