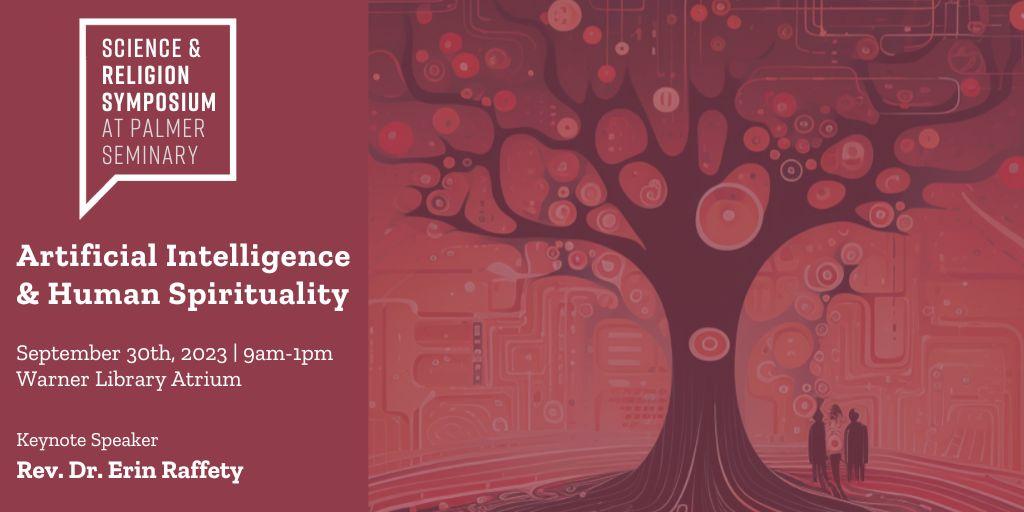 Artificial Intelligence & Human Spirituality
Mark your calendars for a series of thought-provoking conversations on September 30th at the third annual Palmer Seminary Science and Religion Symposium. This year, we delve into the fascinating intersection of Artificial Intelligence (AI) and spirituality, exploring how this rapidly evolving technology might shape our spiritual lives and redefine the landscape of professional ministry.
The symposium will feature a diverse panel of experts, theologians, and AI specialists who will dissect both the potential positive and negative impacts of AI on our spiritual and ministerial experiences. We will also hear a keynote address from the Rev. Dr. Erin Raffety, research fellow in machine intelligence and pastoral care at the Center of Theological Inquiry in Princeton, New Jersey and former research fellow (2020-2022) at CTI. 
On the positive side, AI offers promising prospects for enhancing our understanding of scripture, enabling deeper insights into religious philosophies, and fostering more inclusive and accessible spiritual practices. The use of AI-powered tools might revolutionize how we engage with age-old traditions, making spiritual guidance more personalized and readily available.
However, the rise of AI also raises concerns. There's a growing worry that increased reliance on technology could distance individuals from genuine human connection and communal spiritual growth. The ethical implications of AI in decision-making processes and its potential to perpetuate biases will also be carefully considered.
It is increasingly important that people of faith engage proactively with these rapidly changing technologies so that we might find ways to faithfully use them without them using us.
Join us at the Palmer Seminary Science and Religion Symposium on September 30th from 9a-1p at the Warner Library Atrium (or online via live stream) to engage in insightful discussions, gain a nuanced understanding of AI's role in shaping our spiritual future, and contemplate its profound implications for the realm of professional ministry. Don't miss this opportunity to explore the convergence of technology and spirituality in the 21st century.
Symposium Schedule
8:30a- Gathering and refreshments
9:00a - Greetings and opening prayer
9:15a - Panel discussion:
Dr. Greg Longo - Assistant Professor of Data Science at Eastern University

Rev. Andre Price -

Visiting Assistant Professor of Theology at United Lutheran Seminary, 

Adjunct Professor of Theology at Palmer Seminary and senior pastor of Mt. Olivet Tabernacle Baptist Church

Amy Huddell - Lecturer of Computer Science at Eastern University
10:45a - Break
11:00a - Keynote presentation: Rev. Dr. Erin Raffety - Author, researcher, and lecturer based in Princeton, NJ.
12:30p - Wrap Up and Final Thoughts 
Keynote Speaker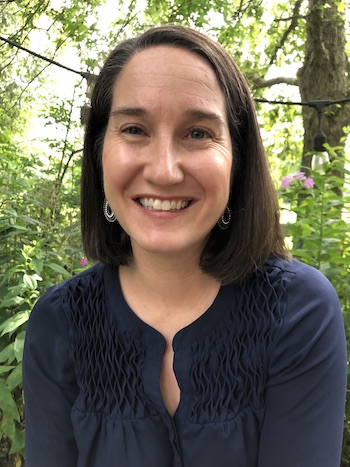 Rev. Dr. Erin Raffety is a Practical Theologian who uses ethnographic methods to study Christian congregations and communities. Raffety is currently a Lecturer in the Princeton Writing Program where she teaches on disability justice.
At Princeton Theological Seminary, Raffety serves as the Senior Researcher on the Isaiah Partnership (a study of pastors leading innovation for theological education), the Empirical Research Consultant on the Imagining Church Project (a nationwide study of thriving congregations) and the Associate Research Scholar for the Institute for Youth Ministry. From 2020-2023, she served as a Research Fellow at the Center of Theological Inquiry, where she built and studied a Minecraft video game for disabled Christians and their congregations, and conducted a study on worship access for Christians living with Long COVID and chronic illness. She is the recipient of numerous grants from the Calvin Institute for Christian Worship, the Lilly Endowment, Inc., the Louisville Institute, and the Templeton World Charity Foundation.
She is also the author of two books, one on disability ministry in the United States, From Inclusion to Justice (Baylor, Sept 1, 2022), and the other on foster care in China, Families We Need (Rutgers, Nov 11, 2022). She is ordained as a Teaching Elder in the PC(USA), holds a Ph.D. in Cultural Anthropology from Princeton University, and is a proud parent of a daughter with multiple disabilities.