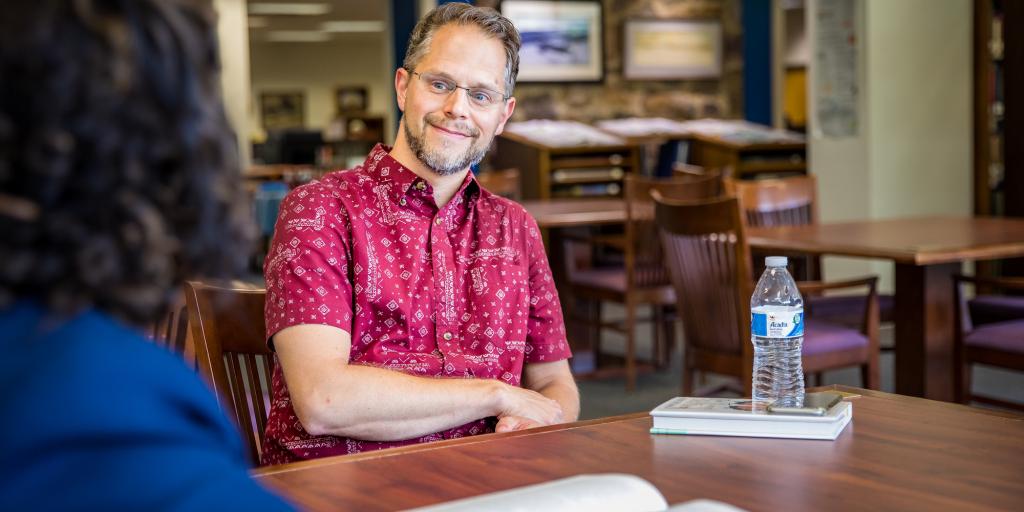 With Palmer's dynamic Master of Theological Studies, students can choose concentrations in General Studies, Christian Counseling, or Biblical Studies and Theology. View concentration and curriculum information.
Some pursue this degree in response to God's call for vocational application in government, advocacy, counseling and lay ministry within their own congregation, or for personal spiritual growth. Others pursue this degree to prepare for PhD studies.
Program Details
Delivery: on-campus
Length: 48 credits; 2 years completion time possible
Cost: view the cost per unit and our financial aid options.  Plus, if you already have a degree from Palmer or Eastern University, check out our Alumni Discount!
Locations: St. Davids, PA
Start Terms: January and August
Distinctives
FLEXIBLE: Flexible course offerings with evening and weekend class times available.
AFFIRMING: Affirming of women and men in ministry.
QUICK COMPLETION: Opportunity to realistically complete degree in two years.
SOCIAL JUSTICE: Emphasis on social justice through coursework and the work of faculty.
DIVERSITY: Ecumenical and unifying environment. Diverse student population which fosters rich peer to peer learning.
VARIOUS CONCENTRATIONS: Students can choose concentrations in Biblical Studies and Theology, Christian Counseling, or General Studies.
VOCATIONAL APPLICATION: Students complete this MTS degree for vocational application in government, advocacy, counseling, lay ministry within their own congregation, publishing, public policy and personal enrichment.
PhD PREPARATION: Direct route for students that want to later pursue PhD work with thesis option in certain concentrations.
SCHOLARSHIP OPPORTUNITIES: Students should apply for the Sider Scholarship (50% off tuition) and Brauch scholarships (40% off tuition) to determine their eligibility.
WORLDWIDE ALUMNI CONNECTIONS: Palmer graduates minister in all 50 states and over 30 countries, providing our students with networking, connections, and job opportunities all over the world.
Whole Gospel. Whole World. Whole Persons.
Whole Gospel: Demonstrate a biblically informed and theologically grounded commitment to a Holistic Gospel Witness. Activate a commitment to service in the church and community to minister to changing times.
Whole World: Develop the ability to engage in the reality and the theology of diverse communities; through a global context of the Christian tradition and intercultural understanding.
Whole Persons: Develop a hunger for lifelong spiritual formation and a commitment to fostering interdependent relationships.
"What I appreciated most about Palmer was the space to rethink the fundamentals of Biblical Christianity, which have been shaped sometimes more by culture than by the scriptures. Any educational experience should not just confirm, but challenge, and Palmer provided just such a "wrestling" arena!"
Choose Your Concentration
General Studies

Christian Counseling

Biblical Studies and Theology

Christian Faith and Public Policy (temporarily suspended)