A Pillar of Palmer Seminary Retires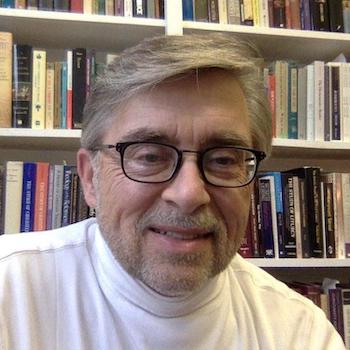 In a forthcoming celebration, Donald Brash will be honored as he is preparing to retire after 25 years at Palmer Theological Seminary! Before the close of the semester, we wanted to highlight Dr. Brash to honor, celebrate and commend his service to our seminary. 
Originally from western Pennsylvania, Dr. Donald Brash, PhD (Drew University) is an ordained minister with an ecumenical history. With extensive experience as a pastor of American Baptist Churches (ABC), he is also a recipient of the American Baptist Churches of New Jersey's Executive Minister's Award for Excellence in Ministry.
His journey with Palmer began long before he began teaching at Palmer. He shares,"In 1972, I attended a week-long retreat at the then Eastern Baptist College. At the end of the week, we were praying, and seated around a circle in Walton Hall outside of the cafeteria. It was then that I made the decision to follow Jesus."
Since 1997, Dr. Brash has been one of the pillars of Palmer Seminary where he has excelled in teaching, advising, and particularly administration. He started as an adjunct professor in 1997, became an Affiliate Professor in 2000, and then a full-time tenure track professor in 2003. After becoming Faculty Director in 2014, Brash used his sabbatical to single-handedly rebuild Palmer's Doctor of Ministry program by being sure that the program met the Association of Theological Schools compliance regulations. He tightened admissions requirements, rearticulated student learning outcomes, completed new hires and transformed the curriculum. Dr. Brash has probably served as chair of Review and Guidance longer than anyone, as well as the additional years of being a member. At Eastern University, Don was elected to serve on the Faculty Senate, of which he has been a member since the 2020-2021 school year, and was also on the Graduate Educational Policy and Curriculum Committee.
Don, as he's affectionately called, has been very instrumental in any process regarding curriculum revisions, whether that be on our main St. Davids campus, our West Virginia location or with our online community. A master in fostering connections, Don's work with Dr. Yocum and former dean, David Bronkema aided in our good standing with the United Methodist Church (UMC). A strong ally for Palmer, Don has also helped the seminary to stay connected with alums and pastors with both ABC and UMC.
Don commented "I find teaching to be extraordinarily fulfilling because I love to learn. This is reflected in my classes, where I do my best to cultivate a collegial atmosphere for fellow learners. Since I am an ecumenical spirit, Palmer Theological Seminary's growing ecclesial, racial and ethnic diversity excites me. Many points of view enrich the educational process by challenging us all to think 'outside the box.'"
Master level students who have taken Dr. Brash's classes (i.e Systematic Theology and Ethics: Vision of Community, Systematic Theology and Ethics: Reign of God, Theology and Practice of Worship, among others), testify that he is "tough, but we learn so much!"
Don is under contract with Cascade books for his next book, Navigating Troubled Waters: the Churches of Yesterday Speak to Churches Today. 
Though a short view of what Dr. Brash has brought to our Seminary and greater Palmer community, we praise the Lord for his years of teaching, communing, instructing, revising, and fulfilling the mission of God in his life.