Mitchell Lectureship To Be Held February 1, 2019
January 4, 2019: Palmer Theological Seminary of Eastern University is pleased to announce the Frank B. Mitchell Lectureship will be held on Friday, February 1, 2019 at 10 a.m. at Pinn Memorial Baptist Church at 2251 N. 54th Street, Philadelphia, PA 19131.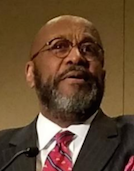 The guest lecturer will be Rev. Dr. Marvin A. McMickle who serves as President, Director of the Doctor of Ministry Program & Professor of African American Religious Studies at Colgate Rochester Crozer Divinity School.
The annual Mitchell Lectureship is the keystone lecture of Palmer Theological Seminary's celebration of African American History Month. It is named in honor of the Reverend Dr. Frank B. Mitchell, Jr., pastor of Pinn Memorial Baptist Church for over 40 years. Over the years of his ministry, he was responsible for guiding many new ministers into service. He directed many of them to Eastern Baptist Theological Seminary (now Palmer Theological Seminary) for their training. Each year, Mitchell Lecturers are invited to address issues relevant to the Church through the perspectives of African American theology and culture.
There will be a reception immediately following the lecture at 12:30 p.m. A conversation with Rev. Dr. Marvin A. McMickle will follow the reception at 1:30 p.m.
For more information contact Eva Ragwan at eragwan@eastern.edu.