Dr. Ron Sider's Legacy Celebrated at Retirement Event; New Book Coming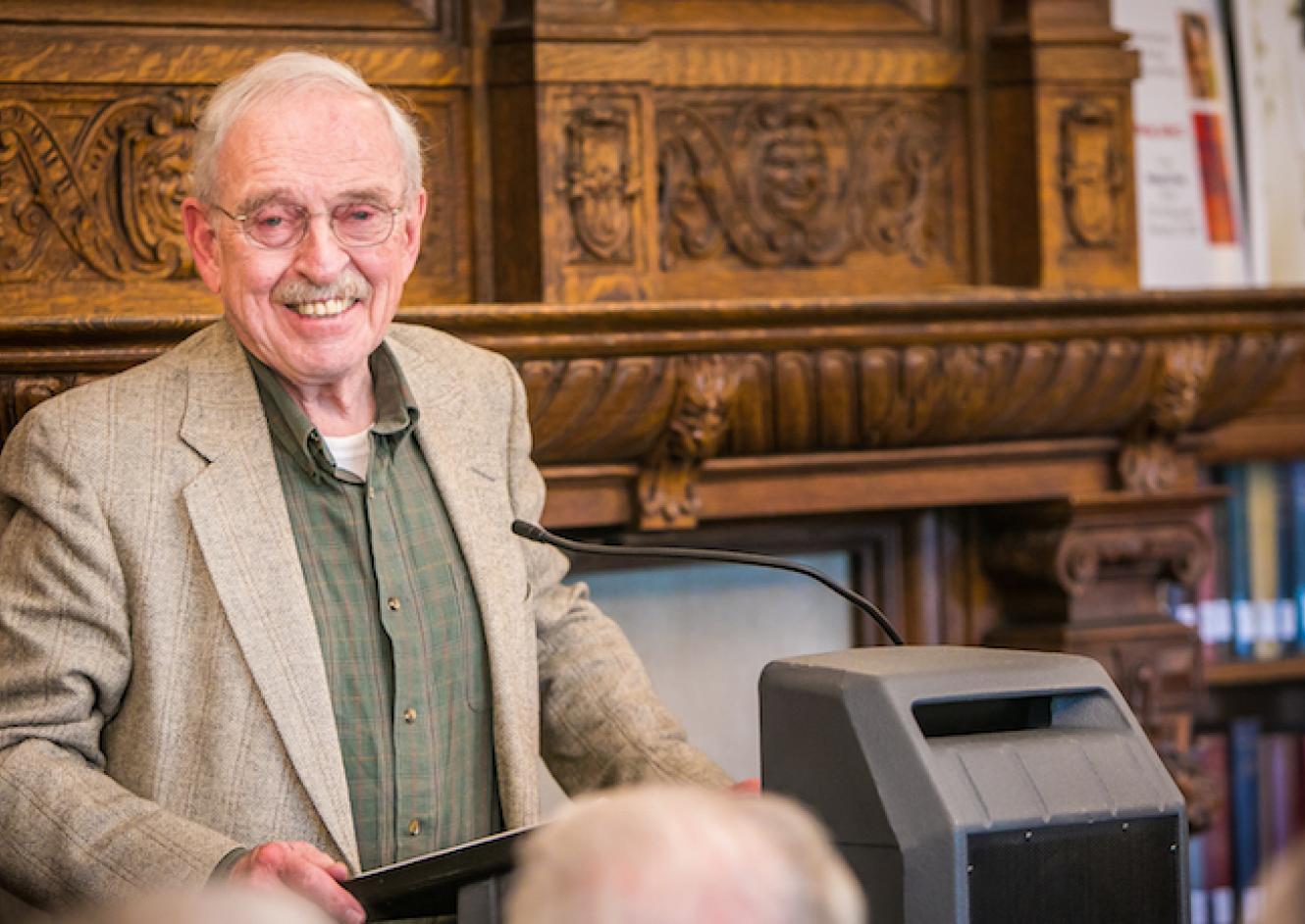 May 29, 2019: Dr. Ron Sider, influential Christian leader, professor, and author, retired from Palmer Theological Seminary on May 3, 2019. A celebration was held on campus in his honor, including an inspiring lecture by Dr. Sider himself. Dr. Sider's rich impact will continue in his retirement, with a new book set to release this July.
Dr. Sider's retirement celebration was a standing-room only event held on Eastern University's campus, with people coming in from far and wide to express their thanks and celebrate the influence that Dr. Sider had on their lives and understanding of the social and spiritual mandates of their Christian faith. Seminary Dean David Bronkema and Executive Director Nikki Toyama-Szeto welcomed those in attendance, with Dean Bronkema announcing that Dr. Sider had been granted Emeritus status by the Board of Trustees. Tony Campolo and Jim Wallis presented opening remarks that centered on the tremendous impact of Dr. Sider in Christian circles, and Dr. Sider's lecture itself focused on how his highly influential 1977 book, Rich Christians in an Age of Hunger, came into being and the various reactions it generated.
Dr. Sider is by far the faculty member with the longest tenure in Palmer's history. By the end of the 2018-2019 year, he will have completed 41 years of service since his arrival in 1978 at Eastern Baptist Theological Seminary, now Palmer Theological Seminary. Over the years, Ron has challenged the followers of Jesus to embrace and live out the twin biblical mandates of evangelism and social action in his teaching, writing, and speaking. His effective ministry has borne fruit in the seminary classroom, the local and global church, and further afield in the public sphere, both in the United States and abroad.
Dr. Sider is widely known for his compelling and challenging book, Rich Christians in an Age of Hunger: Moving from Affluence to Generosity, chosen by Christianity Today as one of the hundred most influential books in religion in the twentieth century, and as the seventh most influential book in the evangelical world in the last fifty years. First published in 1977, this book is now in its sixth edition and has been translated into German, Dutch, Portuguese, Japanese, Korean, and Chinese. In addition, Ron has authored, co-authored, and edited over 35 books, published over 130 book chapters and articles in both peer-reviewed journals and popular literature, in addition to giving numerous lectures at hundreds of conferences, colleges, and universities around the world.
Dr. Sider's newest book, If Jesus Is Lord: Loving Our Enemies in an Age of Violence, will be released July 2019. Pre-order the book on Amazon here.
In 1973, Ron spearheaded the penning of the Chicago Declaration of Evangelical Social Concern with a group of then young evangelical leaders, calling for a rejection of racism, militarism, economic materialism, and inequality. This document, which celebrates its 45th anniversary this year, became the founding document of Evangelicals for Social Action (ESA), an organization Ron founded, that describes itself today as "a catalyzing agent for Christ's shalom via projects focused on cultural renewal, holistic ministry, political reflection and action, social justice and reconciliation, and creation care." Since 1978, Ron has served ESA in many capacities, including as board member, executive director, chairperson, and president. Ron retired from ESA in 2013, but in 2016 he came out of retirement and took on the role as chair of the board, a responsibility he still carries today.
In 2005, the partnership between ESA and Eastern University led to the formation of the Sider Center, which is housed at Palmer Seminary. Using ESA as its main arm, the Sider Center offers Palmer students, especially our Sider Scholars in the Master of Theological Studies program in Christian Faith and Public Policy, ample internship opportunities through its many projects.
From 1975 to 2005, Ron was also a member of the Social Action Commission of the National Association of Evangelicals, in which he played an integral role in expanding the Association's policy focus to include poverty, immigration, and the environment. In 1982, The Christian Century named Ron Sider as one of the top twelve "most influential persons in the field of religion in the US."
Aside from his earned doctorate in history at Yale University (1969), Ron received honorary doctorates from Westminster College (1998}, Malone College (2005), and Messiah College (2009). In 2014, he was given the William Sloane Coffin '56 Award for Peace and Justice by Yale Divinity School.