Bishop Gregory Vaughn Palmer Announced as 2019 Commencement Speaker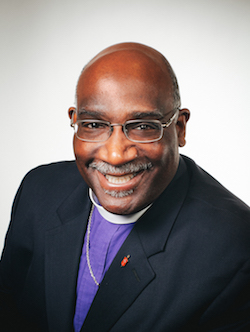 St. Davids, PA: Palmer Theological Seminary is pleased to welcome Bishop Gregory Vaughn Palmer as the May 16, 2019 commencement speaker.  Bishop Gregory Vaughn Palmer serves as the Episcopal Leader of the Ohio West Area of The United Methodist Church having been assigned on September 1, 2012. 
Born and reared in Philadelphia, Pennsylvania, Bishop Palmer is a "child of the church," the son of the Rev. and Mrs. Herbert E. and Charlotte Sue Hewitt Palmer. Bishop Palmer's father is a retired United Methodist pastor; his mother (now deceased) was a school teacher in the Philadelphia Public School system. Rev. Herbert Palmer and his wife Peggy reside in Philadelphia.  
Bishop Palmer received his undergraduate degree from George Washington University in Washington, D.C. and the Master of Divinity degree from Duke University Divinity School, Durham, North Carolina. Baldwin-Wallace College, Iowa Wesleyan College, Simpson College, Hood Theological Seminary and Garrett-Evangelical Theological Seminary have all awarded him honorary degrees. 
He was ordained a deacon and elected a probationary member in the Eastern Pennsylvania Conference in 1977. In 1981 he was elected into full membership and ordained and Elder in the East Ohio Conference. 
His pastoral career includes student pastorates in North Carolina and post-seminary appointments in the East Ohio Conference in Cleveland, Canton and Berea. Palmer also served as district superintendent of the Youngstown District of the East Ohio Conference. 
Elected to the episcopacy by the North Central Jurisdictional Conference in 2000, Palmer served the Iowa Area until assuming responsibilities in the Illinois Area in 2008. Bishop Palmer served as president of the General Board of Higher Education and Ministry from 2004 to 2008 and president of the Council of Bishops from April 2008 to May 2010.
Married for 42 years to his wife Cynthia, they are the parents of two adult children -- Monica, who is a High School Administrator in Charlotte, North Carolina and Aaron, who is a project manager for an interactive technology company based in Charlotte, NC.
Mrs. Palmer is an honors graduate in religion from Duke University. She is a Senior Sales Director with Mary Kay Cosmetics. She has served as a Director of Christian Education and as staff of several Community Action Agencies focused on Welfare to Work projects. She is an outstanding student and teacher of the scriptures and has strong competencies in leadership development.
For more information, visit palmerseminary.edu/commencement.