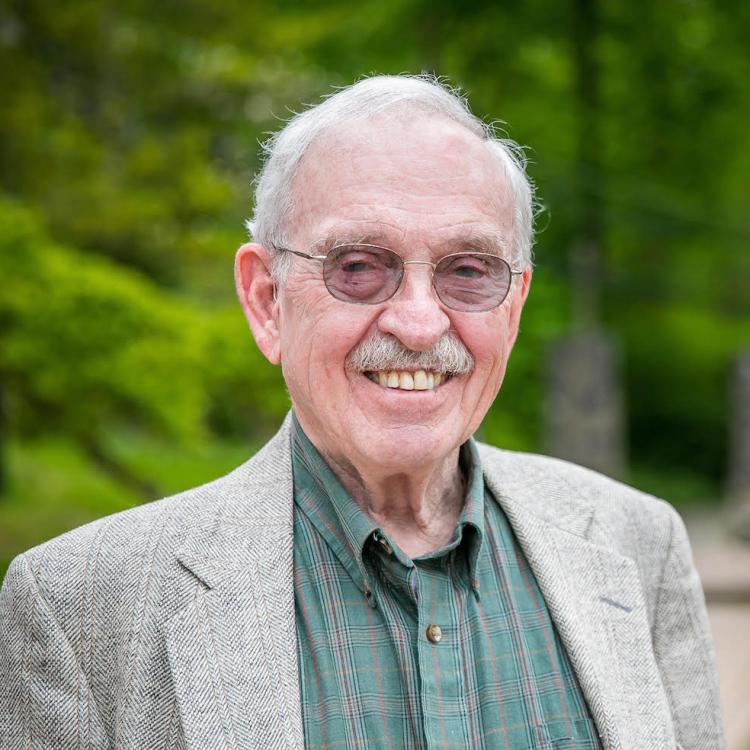 Ronald J. Sider
Emeritus Professor of Theology, Holistic Ministry, and Public Policy
Dr. Sider is by far the faculty member with the longest tenure in Palmer's history. By the end of the 2018-2019 year, he will have completed 41 years of service since his arrival in 1977 at Eastern Baptist Theological Seminary, now Palmer Theological Seminary. Over the years, Ron has challenged the followers of Jesus to embrace and live out the twin biblical mandates of evangelism and social action in his teaching, writing, and speaking. His effective ministry has borne fruit in the seminary classroom, the local and global church, and further afield in the public sphere, both in the United States and abroad.
Ron is widely known for his compelling and challenging book, Rich Christians in an Age of Hunger: Moving from Affluence to Generosity, chosen by Christianity Today as one of the hundred most influential books in religion in the twentieth century, and as the seventh most influential book in the evangelical world in the last fifty years. First published in 1977, this book is now in its sixth edition and has been translated into German, Dutch, Portuguese, Japanese, Korean, and Chinese. In addition, Ron has authored, co-authored, and edited over 35 books, published over 130 book chapters and articles in both peer-reviewed journals and popular literature, in addition to giving numerous lectures at hundreds of conferences, colleges, and universities around the world.
In 1973, Ron spearheaded the penning of the Chicago Declaration of Evangelical Social Concern with a group of then young evangelical leaders, calling for a rejection of racism, militarism, economic materialism, and inequality. He was the founder of Evangelicals for Social Action, and has served ESA in many capacities, including board member, executive director, chairperson, and president.
Aside from his earned doctorate in history at Yale University (1969), Ron received honorary doctorates from Westminster College (1998), Malone College (2005), and Messiah College (2009). In 2014, he was given the William Sloane Coffin '56 Award for Peace and Justice by Yale Divinity School.
B.A. (Honors): Waterloo Lutheran University
B.D.: Yale University
M.A. (History): Yale University
Ph.D. (History): Yale University
If Jesus is Lord: Loving Our Enemies in an Age of Violence (2019)
Rich Christians in an Age of Hunger: Moving from Affluence to Generosity (revised and updated, 2015)
The Future of Our Faith: An Intergenerational Conversation on Critical Issues Facing the Church (2016) 
Non-Violent Action: What Christian Ethics Demand but Most Christians Have Never Really Tried (2015)
Fixing the Moral Deficit: A Balanced Way to Balance the Budget (2012)
Linking Arms, Linking Lives: How Urban-Suburban Partnerships Can Transform Communities (2008)
I Am Not a Social Activist: Making Jesus the Agenda (2008)
The Scandal of Evangelical Politics: Why Are Christians Missing the Chance to Really Change the World? (2008)
Saving Souls, Serving Society: Understanding the Faith Factor in Church-Based Social Ministry (2005)
The Scandal of the Evangelical Conscience: Why Are Christians Living Just Like the Rest of the World? (2005)
Toward an Evangelical Public Policy: Political Strategies for the Health of the Nation (2005)
Doing Evangelism Jesus' Way: How Christians Demonstrate the Good News (2003)
Churches That Make a Difference: Reaching Your Community with Good News and Good Works (2002)
Just Generosity: A New Vision for Overcoming Poverty in America (1999)
Good News and Good Works: A Theology for the Whole Gospel (1999)
Living Like Jesus: Eleven Essentials for Growing a Genuine Faith (1999)
Cup of Water, Bread of Life: Inspiring Stories About Overcoming Lopsided Christianity (1994)
Non-Violence: An Invincible Weapon? (1989)
Preaching about Life in a Threatening World (1988)
Completely Pro-Life (1987)
Peace and War: A Debate about Pacifism (1985)
Nuclear Holocaust and Christian Hope (1984)
Christ and Violence (1979)
Evangelism: Salvation and Social Justice (1977)